Partner Portal Guide: Site & System Information
The Site/System Information page is used to view or edit the basic customer and panel information for an existing location. For each of these sections you have the ability to edit the information presented by clicking the Edit link on the top right corner.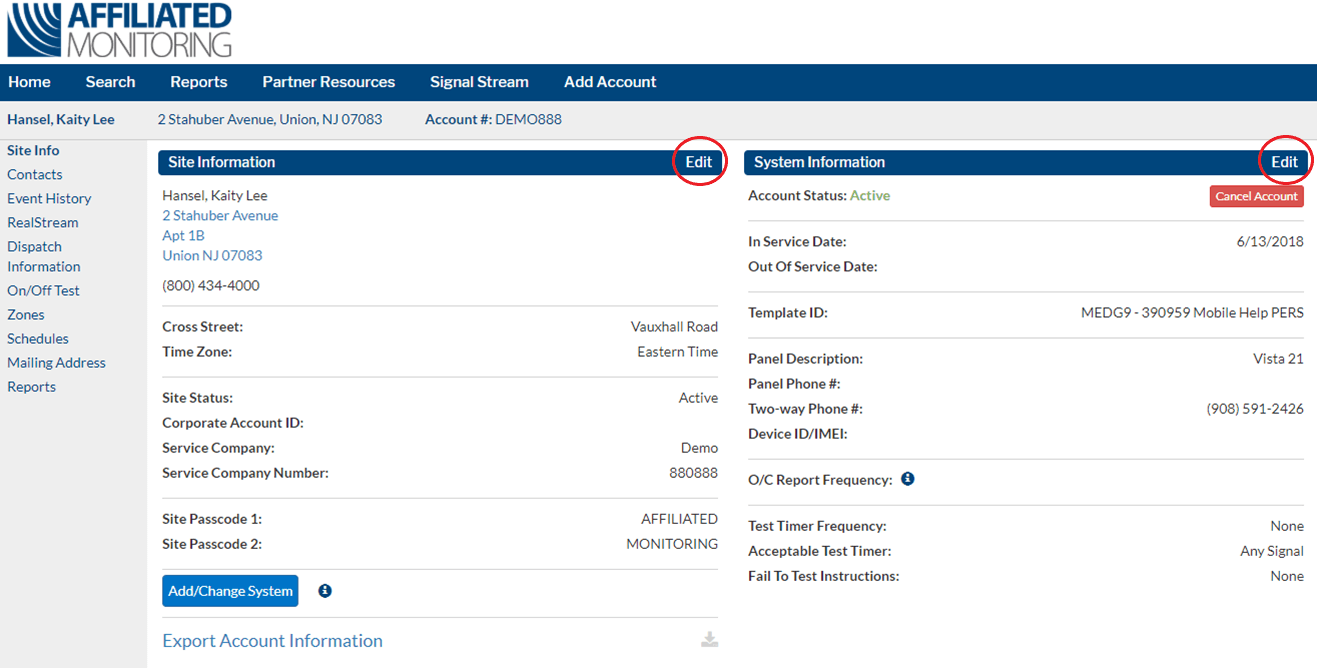 Site Information
The site section is used to view or edit existing site information. The site name, address and phone number are added and modified on this page.
Name
This is the name of the location and/or persons we are monitoring. In the case where we are monitoring a residential location the name listed here must be the same as the signature on the Alarm Monitoring Agreement. In the case of a business, the person who is signing must be an officer or a person that has the authority to sign a legal agreement on behalf of the company. The name should be entered as Last Name, First Name.
Address, City, State and Zip
This is the address of the site that is being monitored.

Note: Any name or address changes will require a new Monitoring Agreement.

Cross Street
This can be critical information and is sometimes required by the authorities in order to find a location.
Verification Phone 1/2
These are the phone numbers we are going to call to verify an alarm before dispatching. We recommend providing multiple phone numbers for Enhanced Call Verification (ECV). This will help to reduce false dispatches.
Site Status
This is a Read Only field which indicates whether the site is Active or Inactive. To change the status of an account, please see the 'Account Status' instructions under the System Information section below.
Site Type
This field indicates the type of location that is being monitored. (Ex. Residential, Commercial, PERS etc.)
Corporate Account ID
Use this field to assign a corporate account number to the site. A corporate account can be used to segregate a group of your accounts so that special access or reporting can be created.

Note: A corporate account number must be set up by Affiliated prior to being an available option in the Portal.

Site Passcode/Site Passcode 2
This is a word or number that the customer must have to verify and cancel an alarm or to get information about their account. The Site Passcode can be shared. If an individual password is desired, this will be set up under the Contacts Section of the portal. See Partner Portal Guide: Contacts for further instruction.
System Information
This section is used to add or modify system information that affects how the panel interfaces with Affiliated's monitoring platform.
Account
If this site has multiple accounts linked together, a drop down menu will appear allowing you to switch between the different systems.
Account Status
This field will indicate whether the account is Active or Out of Service. You can change the status by clicking the 'Activate Account' button or 'Cancel Account' button depending on its current status. If you cancel an account from the portal this will immediately stop the monitoring.
In Service Date
This field will indicate what date the account was placed in service for monitoring.
Out of Service Date
This field will indicate what date the account was cancelled.
Template ID
A template is a default set of alarm handling instructions. Typically this is based upon the signal format and/or site type. A template provides an easy way to ensure that your company's standard alarm handling procedures are being adherred to across your entire account base. If you already have a template created you will see it at the top of the Template ID drop down list. If you do not have a custom template and wish to have one created, please contact Account Management.
Panel Description
This is a brief description of the panel at the site. This will assist both your service technician and our monitoring specialists in interpreting the signals transmitted.
Panel Phone #
Please indicate the phone number at the premises that the panel is connected to if applicable.
Two Way Phone #
If Two Way Voice Communication is being used, please provide the phone number of the device. The following are examples of some of the devices that require a Two Way Voice phone number:

Elevators
Alarm.com Two Way
Numera
LifeBeacon
EZ Care
Essence
iHelp
Brighton Sky

Device ID/IMEI
This field indicates the Device ID or IMEI of the communicator being used.
Open/Close Report Frequency
This is a Read Only field that indicates the frequency of which an Opening/Closing Report will be sent to your customer from our automation system. These reports can now be set up through the Partner Portal instead. See Partner Portal Guide: Reports for further instruction. If the report is set up through the Partner Portal this field will be blank.
Test Timer Frequency
Indicate at what interval the communicator will transmit a test timer signal (ex. Daily, Weekly or Monthly).

Clicking the checkbox, "Allow Manual Override", will allow you to enter a non-standard amount of hours by selecting Other from the drop-down menu.

Only use this checkbox when specifically instructed. A Partner Support Specialist can assist you with entering the correct option.

Acceptable Test Timer
This indicates if Affiliated should accept any signal as confirmation that the panel is communicating properly or if we should only accept a Test Timer signal.
Fail to Test Instructions
This indicates the response we will take when a Test Timer is not received.

Clicking the checkbox, "Allow Manual Override", will allow you to enter a non-standard set of fail to test instructions by selecting Other from the drop-down menu. If you choose Other, you will be required to enter an Event ID in order to submit your settings.

Only use this checkbox when specifically instructed. Entering the wrong values here may result in notifications being made improperly or not being made at all. A Partner Support Specialist can assist you with entering the correct options.
Note: Placing an account in or out of service or adjusting the test timer frequency will have an impact on your billing. Please consult your price list or Partner Support if you are unsure of the costs.
Account Notes
The Portal allows you to leave notes about your customers on this page. Under Site Information and System Information is a section for Account Notes. If there aren't any on the site you are viewing, it will say, "No account notes," and there will be a button to add some.



Click the button to start writing out a note about your customer. Click Save when you are done typing.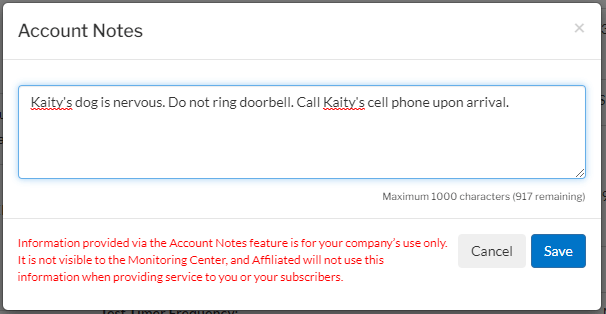 After you save your note, you'll be able to view it every time you visit the site. If you need to make any updates to the note, you can click the Edit button in the corner of the Account Notes section.



To delete a note, click Edit, delete all the text, and Save.
Information provided via the Account Notes feature is for your company's use only. It is not visible to the Monitoring Center, and Affiliated will not use this information when providing service to you or your subscribers.
Add/Change System
This button is used to link two accounts together or perform a signal number transfer. After you click it, it will ask for the account number of the system you would like to link to the current site.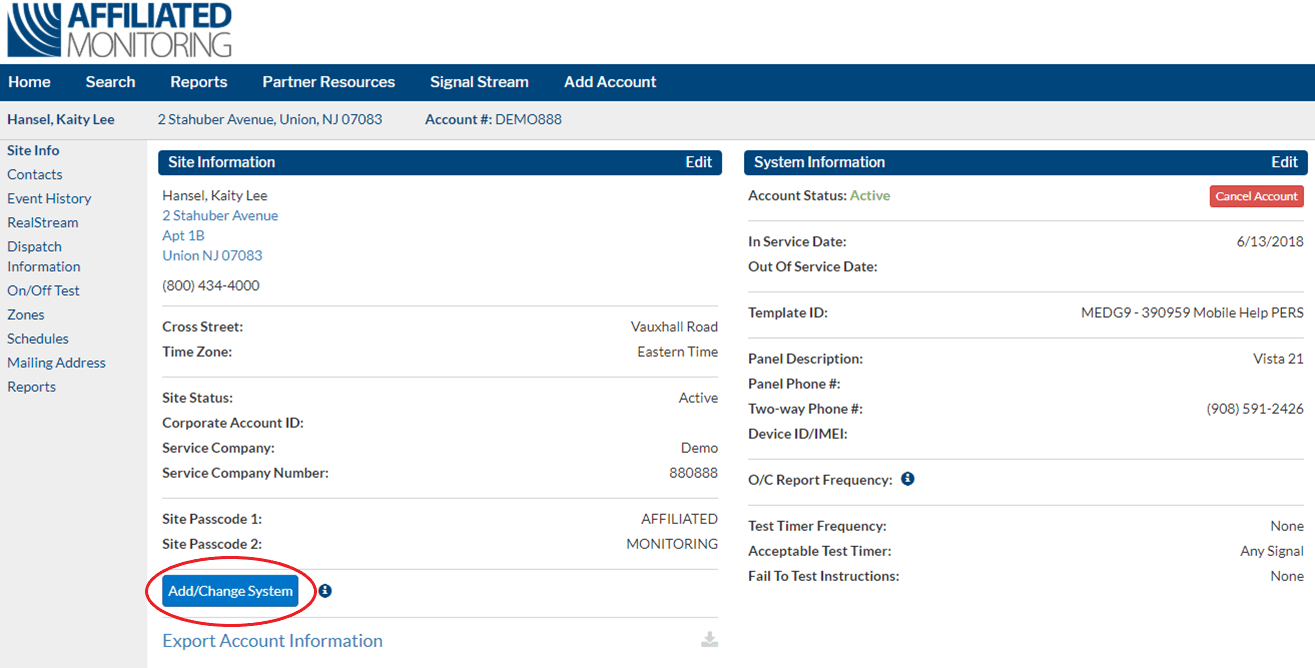 If you enter an Out of Service shelled account, the system will ask you if you'd like to perform a signal number transfer, i.e., to change the account number to a different one. For example, if you are switching your customer from a landline to a cellular/ IP communicator, you might need to assign a new account number to reach a specific receiver.
If you enter an In Service account, please keep in mind that you will lose the Site Information and the Contacts from that account. The Portal will warn you before moving forward.
Exporting Account Information
To export the full customer information, click the download icon next to 'Export Account Information'. This will include Site and System Information, Agencies/Permits, Contacts, Zones, and System Users.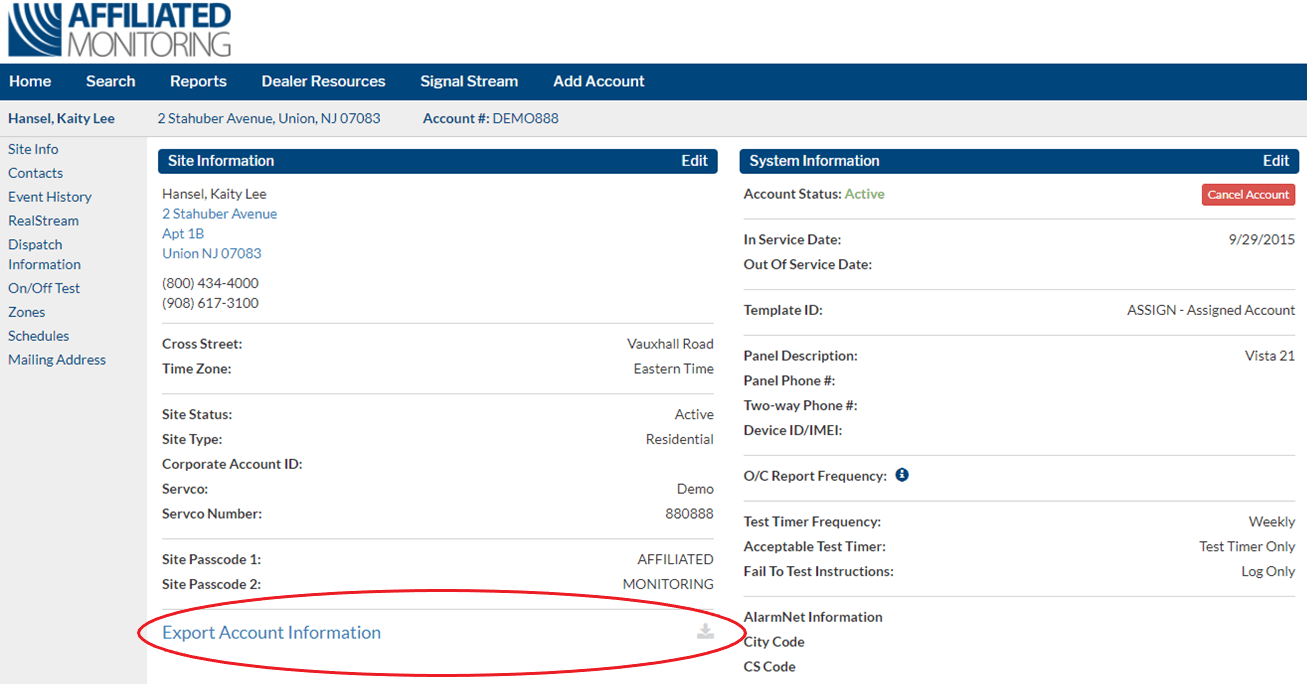 AlarmNet Information
Our web portal now has a direct connection to AlarmNet's data base. From this section you can view all of your AlarmNet information in one place.
City Code
The City Code is the two-digit number (01 to 99) representing the AlarmNet network serving your area.
CS Code
The CS Code or Central Station ID is a two-digit hexadecimal number (01 to FF) representing your Central Station's unique assigned number within the AlarmNet network in which you participate.
MAC
The MAC is a special identifier used to link your radio to AlarmNet's servers.
Device Type
The make/model of the radio installed at this location.
Supervision
This will show what supervision plan is being used for this radio.
Last Status Check-in
This section will indicate the last time the radio checked in.
Next Status Check-in
This section will indicate when the radio is scheduled to check in next.
Current Supervision State
This will show you if a radio is in currently in a Comm Fail state or if the status for the radio is normal.